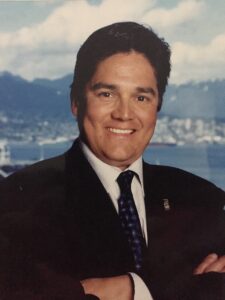 Associate Sockeye Solutions Consulting
Darrell Mounsey is a proud member of Simpcw Nation. Darrell can provide strong leadership to begin the process of change needed to make life better for future generations of Indigenous youth through administration of respectful and strategic engagement, consultation and negotiation.
Darrell strongly believes world class customer service is one of his greatest assets and integrity one of his best serving gifts; both have served him well in the Indigenous work field. Working with First Nations, crown corporations and the private sector test your reputation and reliability daily; Darrell's have both been strong and sound his entire career.
One of Darrell's favourite memories is being part of the Vancouver Organizing Committee for the 2010 Olympic and Paralympic Winter Games. Working as the Chair, Executive Board of Directors, Secretary and Treasurer for the Environmental Aboriginal Guardianship through Law and Education Society (EAGLE) was one of his most humbling experience.
Darrell holds a Diploma of Business Administration from the First Nation University of Canada, a Bachelor of Arts in Parks Administration from Washington State University and a Master of Organizational Business Administration from the University of Phoenix.